Promotional flyer shows land use plan for new Somerset Crossing
May 1, 2019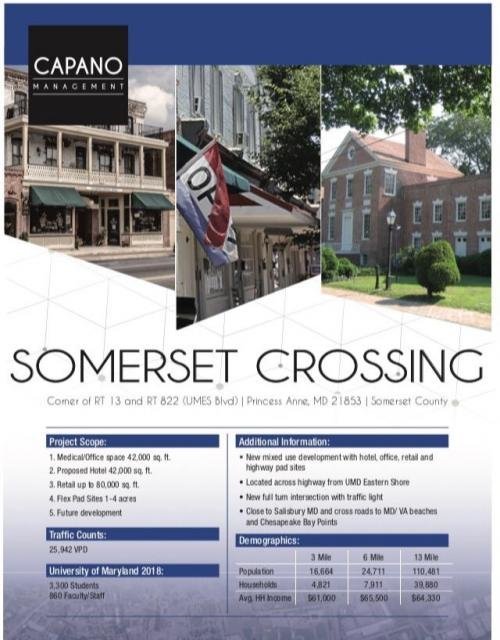 Promotional flyer shows land use plan for new 'Somerset Crossing'
While no firm projects have been submitted, access to U.S. 13 opens old campground
By Richard Crumbacker
Crisfield-Somerset County Times
PRINCESS ANNE — After much anticipation, Somerset County Economic Development last Thurday released a sales flyer for Capano Management Inc. seeking tenants for a new commercial subdivision called Somerset Crossing.
The 62 acre site that was formerly the Princess Anne Campground was purchased in April 2017 by Delaware- based Capano affiliate Princess Anne LLC for $900,000.
The county sold it after taking possession when it received no bids following the 2015 tax sale.
In 2006 the property changed hands for $3.5 million and developers talked of apartment buildings, a " world class" hotel and $300,000 homes. However, the recession that followed stopped all work — plus, nothing could get through the town's planning commission without a new access point to U.S. 13.
The property is currently at a deadend with the Mt. Vernon Road intersection by McDonald's it's only outlet. At the end of 2016 when Somerset County held title to the property the State Highway Administration agreed to provide a full crossover at UMES Boulevard if a developer paid for the improvements to include a new signal for southbound traffic on Ocean Highway.
Thirteen acres at the end of Brittingham Lane that face U.S. 13 north of Food Lion are zoned Community Commercial-1 which allows retail stores, restaurants, offices and lodging. The sales flyer shows a site for a possible convenience store at the corner of the new UMES Boulevard crossover that is still be worked out with SHA. Also indicated is a hotel, medical/professional office building, a supermarket and additional retail plus "flex pad sites" for other commercial projects.
The back of the property is zoned Residential-2, and is platted for undefined residential, multi-family or UMES student housing.
No project has been presented to the town's Planning and Zoning Commission, and code enforcer and public works director Tracy Grangier said it was not on the April agenda. "I'm aware of the developer but nothing is before the town," she said. Prospective tenants may contact Capano Management at leasing@capanoinc. com or 302-429-8700 or contact Somerset EDC at 410-651-0500 for more information. Please click on link below for site layout and information.
Click here for more information
Back to News