Technical high school dedicated
November 13, 2019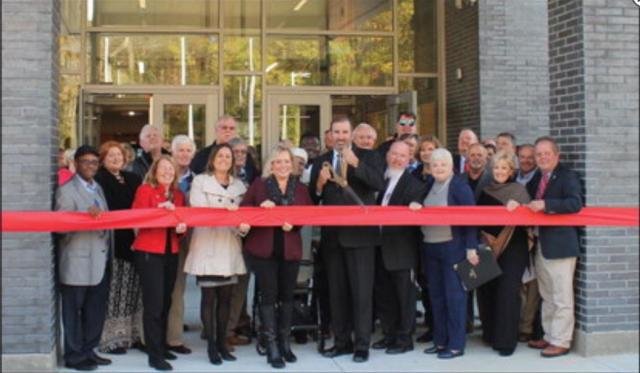 Technical high school dedicated
Replaces JMT, first new school since SIS
Crisfield-Somerset County Times
WESTOVER — Two years and 16 days after the official groundbreaking Somerset County Technical High School was dedicated Saturday with a ribbon cutting ceremony, reception and tours.
The $42 million building replaces the former J.M. Tawes Technology & Career Center which now houses the Alternative Learning Center which was in the Marion- Sarah Peyton School until it closed in June.
"We are incredibly proud to share this amazing building and our career readiness programs with the commu-nity," said Superintendent of Schools Dr. John B. Gaddis. "A school of this magnitude proves that we are committed to the academic and technical aspects of education in Somerset County. This building will change how we prepare our students for years to come."
Over 200 guests were welcomed with a catered reception at the start prepared by the culinary arts students. Principal Keith O'Neal opened with the welcome, followed by introductions of special invitees and speakers by Deputy Superintendent Tom Davis.
Those participating in the program included County Commissioner Rex Simpkins, Board of Education Chair Penny Nicholson, Somerset County Economic Development Director Danny Thompson, and USDA State Director Denise Lovelady.
A citation from Gov. Larry Hogan was read by Tiara Booker-Dwyer, assistant state superintendent for the Division of Career and College Readiness, plus there was a similar citation for Dr. Gaddis for his role in completing such a school for the county presented by Maryland Sen. Mary Beth Carozza.
A proclamation was also received from Bill Reddish on behalf of U.S. Rep. Andy Harris.
Daniel Baltezegar, the school's chapter president of SkillsUSA who was nationally- ranked during the summer competition in an automotive category, provided a student's perspective. He is a senior at Washington High School now taking the medium/heavy truck course newly- offered at the new school.
Other classes in addition to culinary arts, automotive and diesel are biomedical science, business administration services, construction, criminal justice, health professions, horticulture, HVAC, information technology, interactive media, pre- engineering and the teacher academy.
The doors opened to the nearly 400 students on Sept. 3.
One hundred percent of direct construction costs were provided by the State of Maryland Interagency Commission on School Construction, with Somerset County providing additional funds through a USDA loan to finance ineligible expenses such as design and site preparation, furnishings, equipment and technology.
One of the main considerations in the construction was to minimize operating costs. The LEED green building is extremely energy efficient, featuring a high solar reflectance index (SRI) "cool roof" material and vegetated roof areas to provide additional insulation.
Landscaping throughout the site was specifically chosen to eliminate the need for on- site irrigation. The building was constructed using 20 percent recycled content or materials extracted and manufactured within a 500-mile radius, and over 400 tons of construction waste were diverted from the landfill and recycled, accounting for nearly
75 percent of the total waste generated during construction.
Additionally, building materials were selected for their high- durability and low-maintenance qualities. The facility has an industrial feel and layout, with many of the building system components exposed so that students may use the building itself as a learning tool.
School safety was also a major consideration during construction with the building featuring a secure vestibule at the entrance, smoke evacuation system, numerous security cameras and smart classroom design features that provide additional security in the event of a crisis situation.
The afternoon program was held in the school's banquet room and was followed by the cutting of the ribbon outside, led by Dr. Gaddis. After that visitors were able to take a tour of the facility.
This is the first new school in the county since the opening of Somerset Intermediate in 2008. Built for grades six and seven, it is also located on the J.M. Tawes Educational Campus.
PHOTO CAPTION
With the oversized scissors Superintendent Dr. John Gaddis prepares to cut the ribbon to mark the official opening of Somerset County Technical High School. Faces in the crowd from left include Princess Anne Commissioner President Garland Hayward, parent advocates for the new school Jeania and Matt Lankford, Sen. Mary Beth Carozza, Princess Anne Chamber of Commerce President and Town Commissioner Dennis Williams, Supervisor of School Facilities and Capital Planning Daniele Haley, Principal Keith O'Neal, Congressman Andy Harris representative Bill Reddish, Director of Schools Tracie Bartemy, School Board Vice Chair Margo Green Gale, board member Troy Brittingham, Dr. Gaddis, UMES Government Relations Director and former Sen. Jim Mathias, Deputy Superintendent Tom Davis, board members Robert Wells, Patti Monk and Chair Penny Nicholson, Crisfield Chamber of Commerce board member and Worcester County Commissioner Josh Nordstrom (in back wearing sunglasses), former Somerset County Commissioner Jerry Boston, County Commissioner Eldon Willing, USDA State Director Denise Lovelady, County Commissioner Rex Simpkins, Somerset EDC Director Danny Thompson, and Del. Charles Otto.
Back to News