Distillery making "Only the Very Best"
February 7, 2018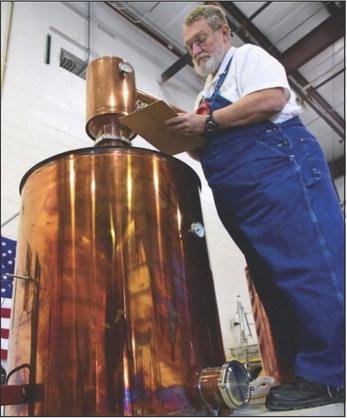 Distillery making 'Only the Very Best'
Rum, moonshine and more are produced at former biodiesel plant
By Brice Stump
Special to the County Times
PRINCESS ANNE — Tom Cropper's family has been on the Eastern Shore since 1629. After nearly 400 years he's the first to try his hand as a commercial liquor distiller right here in Somerset County.
But it was a long way from a "surfer dude" to a maker of rum and moonshine.
"I tried to enroll in the U.S. Naval Academy, but lacked the 'political power'."
Then he was enticed to join the Army during the Vietnam War, with Uncle Sam promising to train him as a pilot for Huey helicopters.
"The recruiter didn't tell me they were killing 200 pilots a week at the time. By the time I finished flight school the war was about over. As it turned out, I never went to Vietnam, Cropper said. "In 1975 I was a Warrant Officer, the youngest (at 19) in the United States Army." After six years in the service, Cropper be came a "dredging," dredging the channel in and around Ocean City. "I was setting cable on the jetty in March and noticed a big wave and got washed right off the jetty. It was cold.
On that job I got hurt really bad, was walking on a floating gantry, somebody had moved some boards and it was 10 at night and I fell into the superstructure. I was out of commission for 11 months. It really messed my arm up but I could stretch out my hand to operate a computer keyboard."
That freak accident changed his professional life.
"For almost 12 months I taught myself computers. Fell in love with it. Now, for the first time in my life I knew my calling was with computers, writing software for companies. I spent 30 years in IT, serving clients from private and public sector firms, like the Department of Defense."
Looking back over those 30 years, Cropper made an unnerving discovery. "I realized that 98 percent of everything I've done in the past 30 years is now obsolete. It was like building paper houses. It's gone."
Now, he's embarking on a new role in life. And, just like his epiphany of "learning computers," Cropper is building his new professional life one lesson at a time as he masters the art of commercial distilling.
After establishing OTVB (Only the Very Best) LLC in 2017, Cropper and his wife, Tina, set up business in the former Greenlight Biofuels building on Progress Lane at the Industrial Park in Princess Anne.
In the 6,000- square-foot building the Croppers' have a small lab, two offices, two copper distilling tanks and a wooden barrel housing a copper cooling "worm" for the distilled spirits.
Around the still are rockers, chairs and benches waiting for folks to come in and take a tour of the distillery. Unlike high powered corporate distilleries, the Croppers offer a cozy, relaxed one- on- one interaction with their visitors. It is something that fits their personalities perfectly and makes the experience rewarding.
"This isn't about getting rich. It's about doing something that's fun and meaningful, and allows me the opportunity to share my craft skill with folks who have an interest in seeing a small distillery operation," he said.
"Hopefully I am building something that in 10 years will have more value than it does today and am providing a product people enjoy. I want to do something that requires ' hands on' involvement."
Cropper grew up learning about marketing and sales from his father.
"My father started Cropper Oil and Gas Company in Berlin in 1968. So I was exposed to the business end of life. Then one day my grandfather told me that the secret of business success was to 'find out what people want and go get it'." So the distillery came into being, now one of just 20 in Maryland and the newest in production.
"Being able to produce something that was considered currency in the beginning of our country is something that interests me," Cropper explained. "I found out that in good time people like drinking a little bit. In bad times people like drinking a little bit."
Cropper hopes to produce vodka, whiskey and gin, but figured he wanted to try his hand first at distilling rum and rum-based moonshine.
"Last year I was an apprentice at the South Florida Distillery for a number of month to learn the trade," he said, "and we are finally producing rum and moonshine here."
Offered under the Spirits of Patriots brand, the company's Navy- strength rum has an alcohol content of 114 proof. The moonshine is 80 percent proof.
"Our Commodore Decatur Navy Strength Rum honors a local hero. I want to honor our patriots, especially those from our area — I went to Stephen Decatur High School near Berlin."
Special to the Crisfield-Somerset County Times/ Brice Stump
Back to News