McCready Health celebrates 95 years
May 6, 2018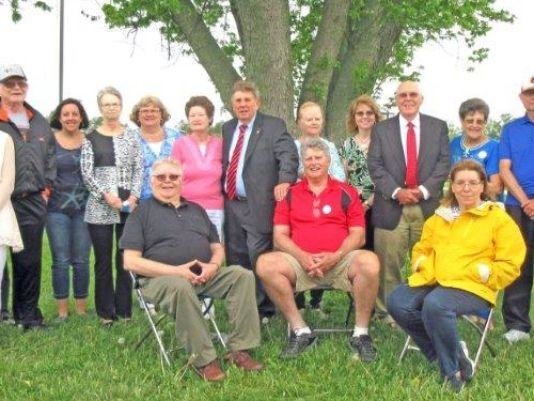 McCready Health celebrates 95 years
Susan Parker, slparker@delmarvanow.comPublished 8:00 a.m. ET May 14, 2018
McCready Health, the leading health care provider in Somerset County, celebrated a major birthday on Sunday, May 6, 95 years after the doors opened on May 6, 1923.
"Today is a great day for McCready Health," said CEO Kathleen Harrison, welcoming the crowd. "For the last 95 years, we've had great successes, overcome some struggles, and have been the place Crisfield, Princess Anne and Somerset County turned to for quality health care. It's quite a thing to celebrate, nearly a century of service."
There were special guests at the event, including nearly 20 people who were born at the hospital during those 95 years, each sporting an "I Was Born Here!" button.
One guest, Clifford "Toby" Dryden, was the first infant to survive thanks to the hospital's new incubator. Born in 1942 at 3 pounds, 6 ounces, he brought with him his baby book, completed by his mother, to share.
Also on display were pages from old, handwritten record books, photos of the facility and staff through the years, as well as other historical items.
After taking part in the group photo, Crisfield Mayor Kim Lawson stated, "Glad to say after 95 years, McCready still offers job stability in this county, employing more than 250 people. McCready's health care has allowed generations to exist; now we must make it relevant in the 21st century.
"We are hardy stock," Lawson said, "those of us born and raised in Crisfield, we are given this 'gift' out of tragedy that is McCready Hospital, which has been the cornerstone of Somerset County's healthcare profession."
The Edward W. McCready Memorial Hospital opened its doors May 26, 1923, following a donation of $200,000 and 22 acres of land from Caroline Pitkin McCready in memory of her husband and daughter.
Marketed today as McCready Health, the organization includes McCready Hospital, Alice B. Tawes Nursing and Rehabilitation, Chesapeake Cove Assisted Living and outpatient services in Crisfield and Princess Anne. Visit www.McCreadyHealth.org.
Back to News